Stegna
Location: 30 km south of Rhodes Town
Description: Stegna is a beautiful beach with sand and pebbles. A family oriented beach, Stegna is ideal for relaxation.Stegna beach just 2 Km away Archaggelos village and 30 Km away Rhodes town. The shingle and sandy beach with the shallow crystal clear waters consitutes one of the main attractions for Greeks and foreigners that love fresh seafood, Spend your day around thebeach and then enjoy the mouthwatering dishes from one of the traditional spectacular restaurants of Stegna. The beach offers sunbeds and umbrellas at reasonable prices. http://www.aroma-stegna.com/
Theologos Beach
Location: 22 km from Rhodes Town
Description: Theologos is a popular beach resort on the northern side of the island. It has plenty of watersports and tourist amenities.The beach in front of the tourist resort of Theologos is situated at a distance of 22 kilometers southwestern to the town of Rhodes at the northwestern coast of the island. It is the last part of the 10- kilometers long continuous beach, which starts from Kremasti at the Northeast and ends up here.Once at the beach, you will enjoy swimming, sunbathing and sports at a huge sandy beach, with nice crystal clear sea, very well organized and with any facilities you wish.
Health services are available at the nearby resort of Kremasti (some 10 kilometers at the Northeast , where you will find a local Medical Center and a Post Office. A Medical Center is also available at Paradeissi, some 6 kilometers to the Northeast. At Paradeissi, you will also find a Police Station.
Access to the beach from the town of Rhodes is very easy by public bus, running frequently, by taxi, as well as by rented or private car and motorbikes.
http://www.greekhotel.com/dodecane/rhodes/theologos/beach/home.htm
Traganou
Location: 20 km south of Rhodes Town
Description: This is a calm alternative for the close crowded beaches, like Faliraki and Ladiko.
Traganou beach is a small beach located 16 km awy from Rhodes town and just 3 away from Faliraki resort village. Traganou beach has beautiful views, situated between rock caves. The beach has small pebbles.Is very close to Afandou beach and jusy 1km away from golf course of Afantou.Traganou beach has crystal clean waters, umbrellas and sun beds are available for hire.Traganou beach has a small fish taverna.
Vagies
Location: 10 km from Rhodes Town
Description: This is a nice, organized beach close to the tourist resort of Paradisi and the airport of Rhodes.The small bay of Anthony Quinn with crystal clear waters and rocky surroundings is one of the most beatifull beaches on the island of Rhodes. There is a jetty for small craft to moor ,while many sailing boats drop anchor a litle farther out,beyond the swimmers.
Vlicha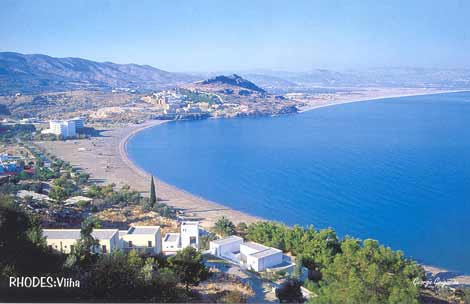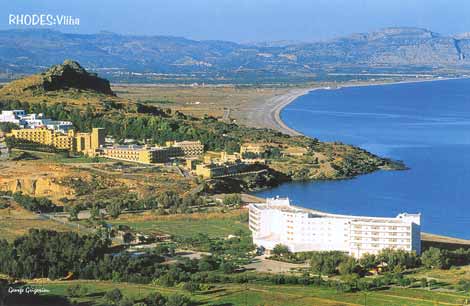 Location: 47 km south of Rhodes Town
Description: Vlicha is a nice sandy beach close to Lindos, the second most famous town on the island. This is a lovely bay protected from strong winds.The picturesque Vlycha beach, within easy reach of the historic Town of Lindos, features everything you would expect of an idyllic beach: warm sand, crystal clear blue waters, plenty of sun beds w/ umbrellas and Canteens serving cool dinks and great tasting snacks. If water sports are what you are after, Vlycha has a good variety to choose from; everything from banana boat rides, to off shore snorkeling.
Makris Tichos
Location: 50 km south of Rhodes Town
Description: This organized beach is located close to Lardos, therefore the surrounding region is tourist developed.
Paradisi
Location: 15 km from Rhodes Town
Description: The crystal clear waters and the sandy coast of Paradisi create the ideal environment for visitors who want to enjoy a relaxed day at the sun.
Location: 53 km south east of Rhodes Town
Description: Pefki is a calm beach resort. Although it is organized and has some tourist facilities, it usually doesn't get mch crowded due to its long distance from the capital town.
Kamiros and Ancient Kamiros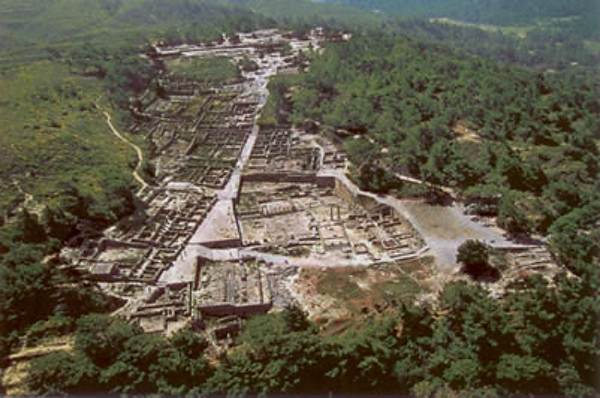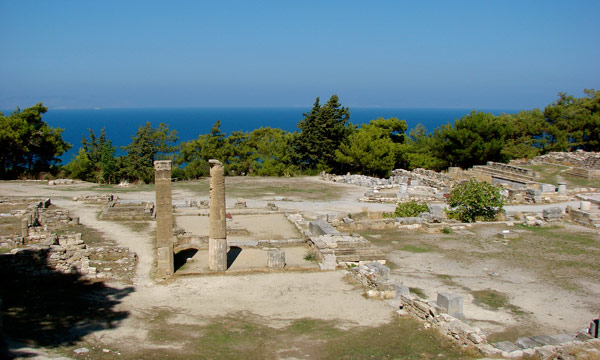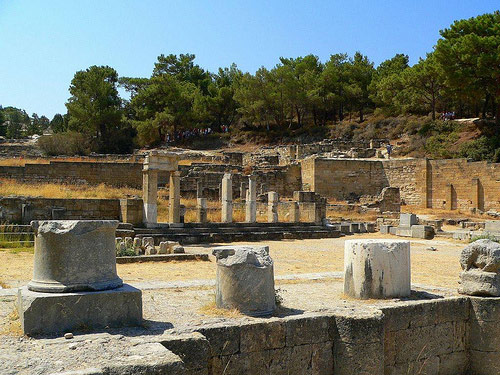 Location: 50 km from Rhodes Town
Description: There are many umbrellas and sundecks you can rent to enjoy the beautiful scenery and relax under the shade.After a scenic drive down the west coast of the island, viewing diversified villages, we ascend to the hill top of Ancient Kamiros.
The archaeological site reveals the remains of a city, a characteristic example of Hellenistic urban layout and design, with a division into zones of public and private buildings, arranged around the natural slopes of the hill, with a chessboard system of streets.ncient Kamiros which was built around 7 th century. An ancient Greek city whose ruins stretch magnificently across and up a rocky hillside, with the remains of a temple of Athena at the top. You can still see the well-preserved findings of an advanced civilization that existed such a long time ago. There are also a large cistern of the 6 th or 5 th century, and a stoa (portico) of the end of the 3 rd century, measuring 200 meters in length and lined with two rows of Doric columns. On the surrounding hills, ancient burial grounds have been found. In one of the graves was unearthed the famous stele of Crito and Timarista, which is one of the most important exhibits of the Archaeological Museum of Rhodes.
Kathara
Location: 13 km from Rhodes Town
Description: This is a lovely sandy beach, surrounded by rough rocks, with crystal clear and shallow water. It is great for families with children. If the main beach at Faliraki gets busy, you've got backup with Kathara Bay, a quieter cove just past the harbour. Another Blue Flag winner, it has the same soft sand as its neighbour, only more spotless – Kathara means clean in Greek. The shallow water is ideal for little children and you won't get any noisy watersports – just the local fishermen reeling in their catch.
Katsouni
Location: 50 km south east of Rhodes Town
Description: Katsouni beach has shallow, crystal water. Although it is organized with sun beds and umbrellas, it is a bit secluded from other beaches on the island.
Kiotari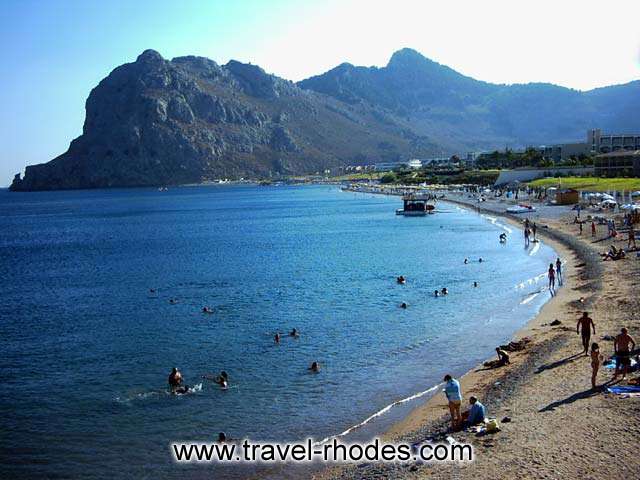 Location: 60 km south of Rhodes Town
Description: Kiotari is a lovely resort within a short drive from Lindos. It has sandy beach and crystal water, while there are also many tourist amenities in the area.
Kolympia
Location: 26 km south east of Rhodes Town
Description: Kolimbia beach is a peaceful organized beach wih fine sand and pebbles. An ideal place for rest and relaxation.
Location: 45 km from Rhodes Town
Description: This is a small beach between Mandrakio and Skala Kamirou, totally unorganized and somehow remote.
Kouloura
Location: 65 km from Rhodes Town
Description: A small beach with no tourist facilities, Kouloura is a nice place to enjoy some peaceful moments.
Kremasti
Location: 12 km south west of Rhodes Town
Description: The beach is very popular due to its closeness to the capital town and the crystal water. It has many tourist facilities and watersports centres.The beach is about 20-25m wide, made of hard sand and pebbles. Then there are trees and a small road. The area to enter the water is limited by buoys to distinguish the kite area from the swimming area. It is therefore important to be able to stay upwind. It is possible to launch further up the beach, then you will have a long downwinder back to the kitecenter. The Pro-center owns 50m of the beach and kitesurfers will have no problem with entering or getting out of the sea. The area to enter the water is limited by buoys to distinguish the kite area from the swimming area.
Lachania
Location: 70 km from Rhodes Town
Description: Lachania is a large beach with clean water and sandy coast. The surrounding region has many tourist facilities.
http://www.travel-rhodes.com/
http://www.guide2rhodes.com/information/113/Traganou-BeachRhodes
http://www.amazingrhodes.com/rhodes-beaches.html