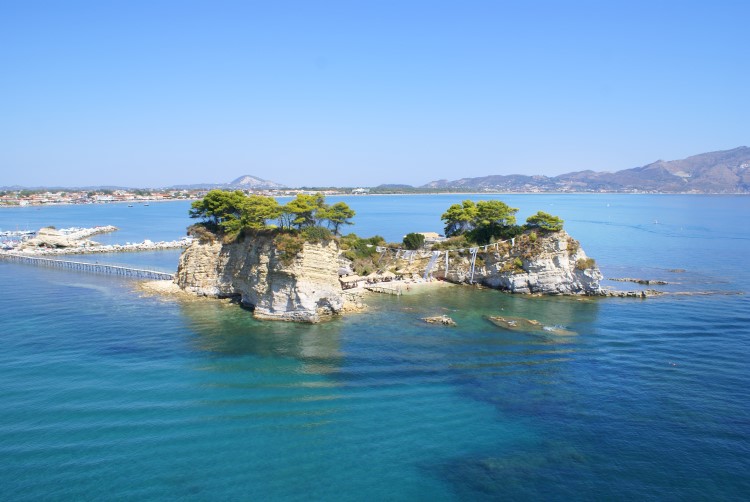 Shipwreck Beaches - Zakynthos Greece
Navagio beach, also known as Shipwreck and Smugglers Cove, is the best known sight on Zante (Zakynthos) and one of the most famous beaches in Greece. It is also one of the most photographed beaches in the world and has been featured in many holiday brochures and travel books. This beach is a must see on any holiday to Zante.
It is only accessible by boat, as it is surrounded by cliffs and driving or walking to the beach is not possible.
However there is a viewing platform where the beach can be viewed from above and is very impressive, the platform is near the village of Anafonitria and is well signposted. Boats to the shipwreck run from many parts on the island, Zante (Zakynthos) town, Alykes, Agios Nikolaos, Skinari to name just a few.
The story of the shipwreck is that in 1983 a boat that was trying to smuggle cigarettes and alcohol illegally into Greece, was tracked by the Greek Navy and due to poor weather it hit rocks which led to it being washed up on the beach. The shipwreck lies in the middle of a breathtaking bay, dominated by white limestone cliffs and surrounded by turquoise water - the colour of the water has to be seen to be believed.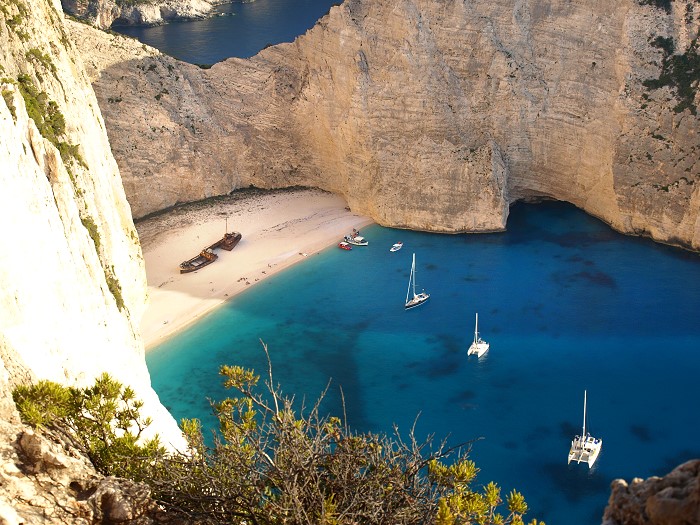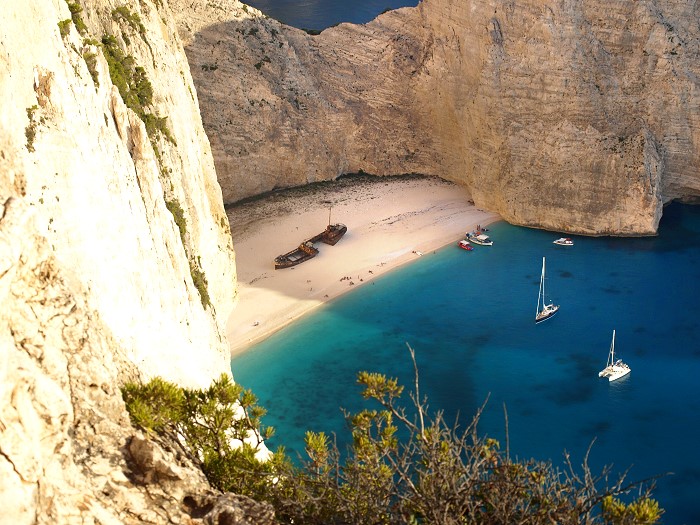 Time from Zante Town (Port): 45 minutes
Time from Zante Airport: 45 minutes
Distance from Zante Town (Port): 30km
Distance from Zante Airport: 30km
Ag.Sostis Beaches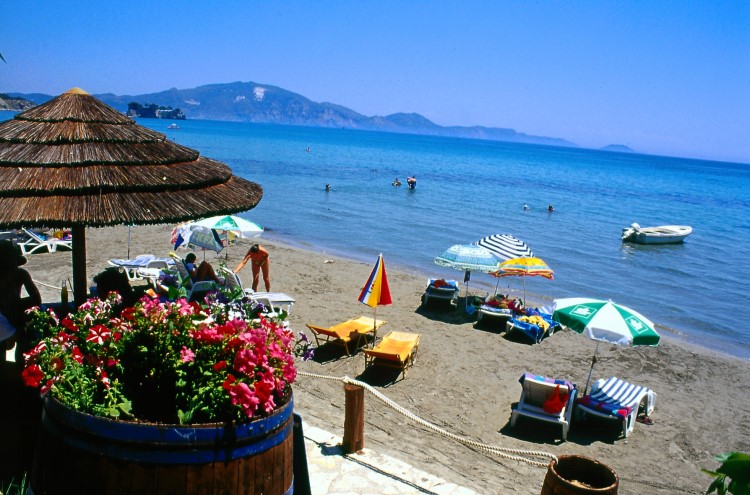 Agios Sostis is a charming little beach with much to offer, such as boats for hire, trips to Marathonisi Island, also known as the turtle island,, pedaloes as well as plenty of sunbeds and umbrellas. This beach is a really picturesque part of Zante. A small island is connected to it and is home to a popular nightclub during the summer.
Sometimes turtles can be seen from this beach as it is just a short distance from the bigger and better known beach of Laganas. Easily accessible, it is ideal for anyone staying in Laganas who wishes a change of scene and a visit to a quieter beach.
Time from Zante Town (Port): 18 minutes
Alykanas beach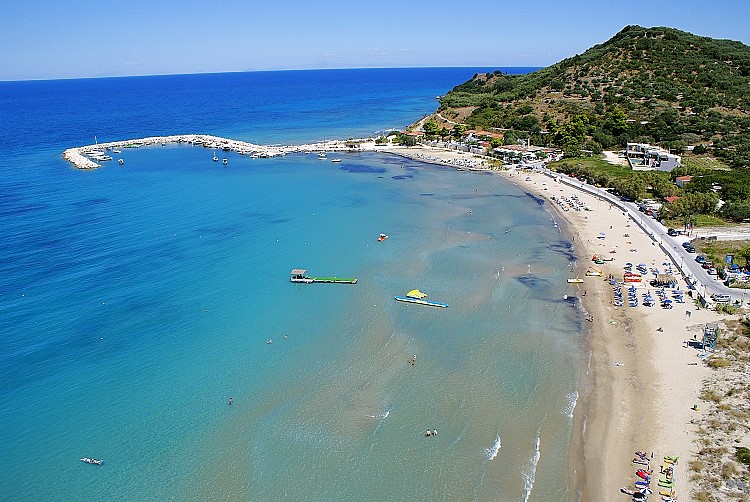 Alykanas beach lies on Alykes bay, at the opposite end from Alykes beach - a small walking distance joining them.
Alykanas beach has a wide range of water sports, and soft sand and shallow waters making it perfect for the whole family.
Bars and restaurants are within easy walking distance and the resort centre of Alykanas and all its amenities is also just a short walk away. There is plenty of parking in the vicinity and the beach is easy to drive to.
Amoudi Beaches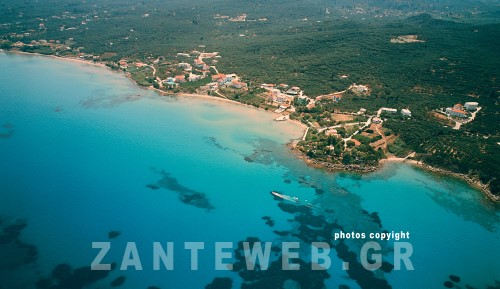 The beach at Amoudi is sandy being a continuation of the wider known beaches of Alykes and Alykanas and has crystal clear waters superb for a refreshing swim.
This is also a great place for snorkeling with a wide variety of fish to see.
This beach is ideal for a tranquil and relaxing day as it is not as busy as some of the other beaches in the area and has a sense of serenity.
The area of Amoudi remains traditional and unspoilt and there are a handful of tavernas, bars and accommodation in the area.
Bouka-Gaidaros Beaches
Bouka & Gaidaros beach is a small clean sandy beach, uncrowded, with plenty of space for everyone.
The water is shallow and safe for children. It is also very clear so is ideal for snorkeling. It is near Tsilivi beach and offers a smaller and quieter alternative for anyone staying in Tsilivi.
Gerakas Beaches
Gerakas is considered by many to be
one of the most beautiful beaches on Zakynthos (Zante). It is a long sandy beach and is a nesting place for the Caretta Caretta turtles.
Like other beaches on the south coast of the island it belongs to the National Marine Park which works hard to protect the wildlife in the area. No water sports or beach bars are available in order to keep noise and disruption to the turtles to a minimum; this has also helped maintain the beauty and serenity of this splendid beach. It is also forbidden to stick umbrellas in the sand because of turtle nests in certain parts of the beach.
Just a short walk from the beach are several snack bars and restaurants, but visitors would be advised to take a bottle of water.
Keri Beaches
Keri Lake is the beach in the area of Keri and is so called Keri Lake after a lake that used to be here, but has long since dried up.
Keri Lake is a small beach lined by bars, cafes and tavernas - all offering good quality refreshments, fresh fish and traditional Zakynthian delicacies. There is a diving school at Keri Lake which is popular with many visitors; also snorkeling in this area is fantastic.
Boats are available to rent from here to visit the nearby Blue Caves as well as the island of Marathonisi (also known as Turtle Island) which has lovely beaches as well as providing the chance of catching a glimpse of the magnificent Caretta Caretta turtles.
This beach is easily accessible being well signposted and there is parking available on the road behind the beach as well as near the little harbour.
Makris Gialos Beaches
Makris Gialos is a lovely beach in the north of the island. It is a fairly small beach but has crystal clear waters and is set in impressive scenery.
Small caves can be reached from this beach, ideal for the adventurous to seek out and discover. A diving school is located nearby as are several tavernas serving traditional Greek food. The water here is deep, so this is not the best beach for families with young children but is ideal for couples wishing to escape crowds and have a little peace and privacy.
An easily accessible beach as it is just off a fairly main road where you can park your car, it is a lovely place for a day out away from busy tourist resorts.
Mavrantzi Beaches
Mavratzi is a fantastic beach, between Gerakas and Agios Nikolas beach. Water sports, sun loungers and parasols are all available and the sea is very calm with a gentle slope into the water - so it is safe for young children.
It is a beach popular among tourists and locals, but never crowded, with a relaxing atmosphere.
Porto Koukla Beaches
Porto Koukla is one of the best sandy beaches on Zante (Zakynthos).
An unspoilt beach, perfect for anyone seeking a relaxing and tranquil atmosphere. Sunbeds and parasols are available.
A handful of beach bars and tavernas line the beach and offer delicious traditional Greek cuisine.
This beach is a lovely spot from which to watch the magnificent sunset, for a special romantic evening.
Porto Roxa Beaches
Porto Roxa is near Limnionas and the village of Agios Leon. It is a small bay with crystal clear waters and is a lovely place to swim. Steps lead down to the bay, where mooring is also available for small boats.
For those too impatient for a swim to walk down the path to the water's edge, it is possible to dive from a spring board into the azure water. There is a taverna nearby but being an uncommercialised spot there are not many other facilities, so make sure you have water and any other necessities you may require with you.
Psarou Beaches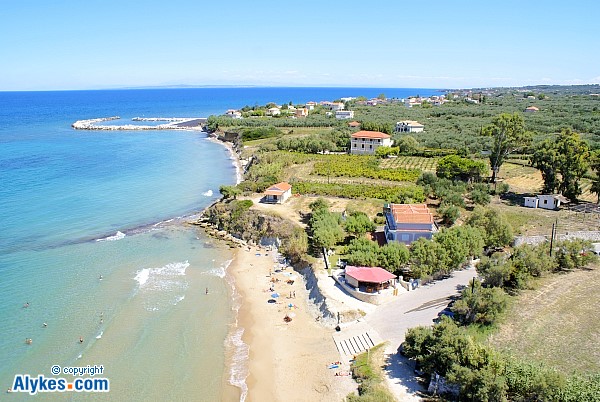 Located between the resorts of Amoudi and Tsilivi, this is one of the most captivating scenic spots on the North East coast of the island, Amboula - Psarou.
This sandy beach with clear blue water is the perfect spot for sunbathing and relaxing during the day. You can take a stroll through the unspoilt countryside and experience the natural beauty of the flowers and wildlife in the area. The water is shallow, perfect for children and there are no sunbeds or water sports. Parking can be found on the nearby road. This beach has also been awarded with the blue flag for its cleanliness.
The locals are warm and friendly and there are many typically Greek tavernas offering local, home cooked, traditional Zakynthian dishes.
Tsilivi Beaches
Tsilivi beach is fairly large, wide and long with soft sand that gently shelves into the sea. It is ideal for children as the water is shallow and they can splash and play in safety.
It has very clean waters and the beach as a whole is exceptional. This has been recognized as it has been awarded the prestigious international Blue Flag award - only given to a select few beaches that manage to meet many strict criteria. Water sports are available on this beach, such as pedaloes, paragliding, Jet Skis, windsurfing etc, as well as sunbeds and parasols. Although it is popular it does not feel overcrowded.
Refreshments are available at this beach and the centre of the resort is nearby with a wide selection of shops, supermarkets, bars and restaurants.
The beach is easily accessible from anywhere on the island, as it is well signposted and parking is plentiful.
Xigia beach
Xigia beach is a picturesque pebbly beach that is unique on the island due to the water having high sulphur content, giving the beach a distinctive sulphuric aroma.
The sulphur comes from a nearby cave and this beach is a great place for anyone with aches, pains and arthritis to bathe as the sulphul in the water helps ailments.
It is also reputed to be good for skin problems and helps remove cellulite. This beach is easily accessible by car and parking is available nearby.
There are a handful of good tavernas in the vicinity although there are no facilities actually on the small beach, so make sure you take water and other necessities with you.
Agios Nikolaos Beaches
Agios Nikolaos is a popular beach in Vassilikos, with an excellent range of water sports and also the best reputation on the island for scuba diving.
The beach is beautiful, but in the height of summer it can feel crowded due to its popularity. There is a restaurant and a bar, with good snacks to enjoy while listening to the sound of the water lapping on the shore. Sunbeds and umbrellas are available and for the athletes amongst you, there is a beach volley court.
Alykes Beaches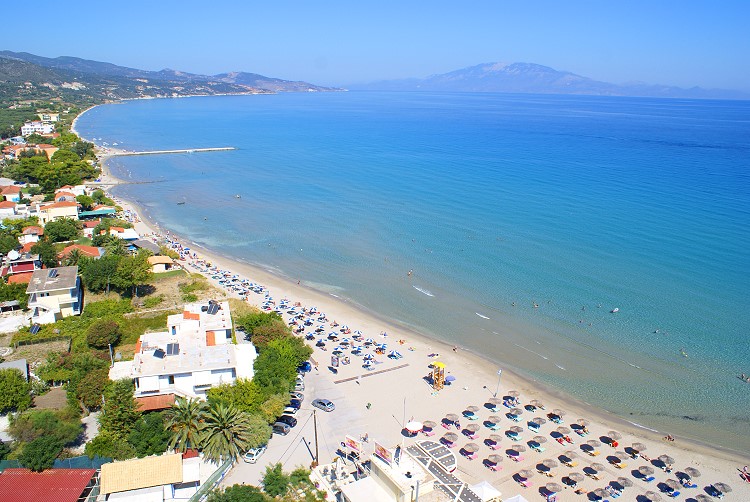 Alykes (Alikes) is one of the best beaches in the north of Zante (Zakynthos), being a long stretch of soft golden sand. It is an ideal family beach as the sand gently shelves into the water making it safe for young children and swimmers of any level.
There are sunbeds and umbrellas to hire and a good range of beach bars, restaurants and tavernas. The friendly resort of Alykes is just behind the beach, which means all the resort's amenities are within easy reach - such as shops, supermarkets, etc, as well as plenty of parking spaces. This is a great beach to spend all day at and the cool off shore breezes make sunbathing a pleasure while also making it a good area for windsurfing.
Water sports are available here as well as boat trips to the Blue Caves and the Shipwreck.
Argassi Beaches
Argassi beach is a lovely sandy beach, perfect for children and families and although it is fairly narrow it does stretch for over one kilometer so it never feels too crowded. It is in the south- east of the island and there are many coves near this beach - great for exploring.
A wide range of water sports are available, ideal for a fun and memorable experience.
The resort of Argassi has developed around the beach and although now it is one of the most popular resorts on the island it is compact so all amenities are within easy reach of the beach.
Argassi beach is easily accessible and parking is available nearby.