Dafni Beaches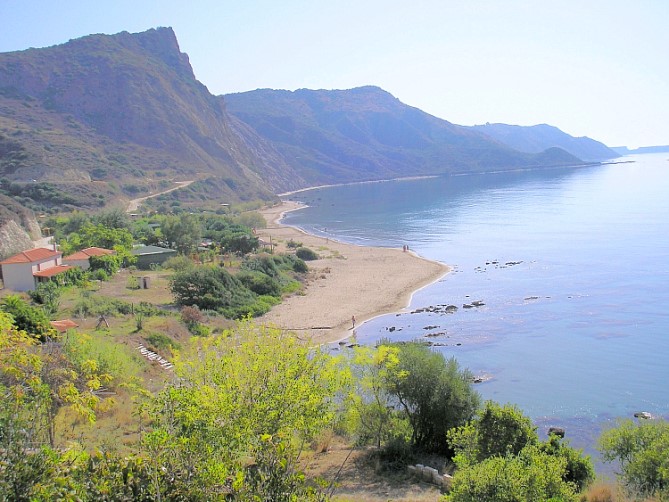 Dafni beach is located in the south of Zante, in the area of Vassilikos.
The beaches in this area belong to the Zakynthos Marine Park, which protects the wildlife in the vicinity. This beach is long, wide and sandy, breathtakingly beautiful, with splendid views across the gulf of Laganas.
The famous and unfortunately endangered Caretta Caretta turtles nest their eggs here, which is why the beach is protected and at times some parts of be off limits to the public in order to protect the turtle's nests (which are also caged to prevent damage). No visitors are allowed on this beach at night.
There are a couple of tavernas on this beach but no water sports are available so as not to disturb the habitat of the turtles.
This beach has a special designated parking area, as no cars are allowed directly on the beach. A free mini bus service takes visitors to the entry point of the beach - where there is also a barrier to prevent cars.
Ionion Beaches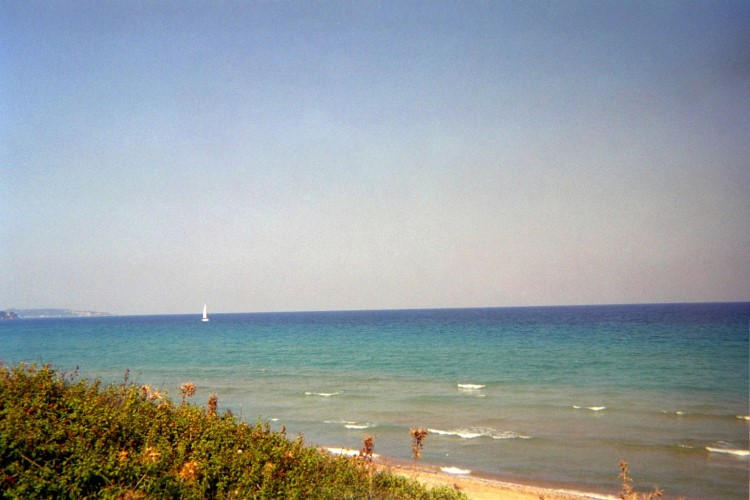 Ionio Beach is located next to the famous Banana Beach, which is the longest beach on the island, on the coast of Vassilikos. It is picturesque with glorious golden sand and shallow clear waters.
This beach is a sun- trap and rarely has sea breezes so it can get hot, ideal for those who love sunbathing. The lack of natural shade is covered by the umbrellas that are rented on the beach, and by the small sea side bars.
Kryoneri Beaches
Kyroneri beach is the closest to the island's capital, Zante (Zakynthos) Town.
It is easy to walk or drive to, and there is designated parking space for visitors to the beach. Just 1 km north of the this pebbly beach is popular with locals who live in the capital and feel like a quick dip in the sea.
Nearby is the yachting club, tennis courts and children's playground as well as some kiosks to buy refreshments. Although it is not one of the best beaches on the island, anyone staying in Zante town who just wants to listen to the sound of the sea and have a short visit to the beach will find this beach a handy place to visit.
The water is calm and safe for children to swim and therefore this beach is suitable for families.
Marathias Beaches
The beach of Marathias is near Keri Lake, in the south of Zante (Zakynthos).
This is an ideal place for relaxation and getting away from it all, as there are no beach bars or tavernas, so it is really tranquil. It is a beautiful, pebbly beach with clean deep water.
It is lined with olive trees, which offer some welcome shade from the midday heat. This beach is popular but never feels overcrowded. As there are no facilities, visitors are advised to bring bottles of water and any other necessary supplies.
Pelouzo Isle Beaches
Pelouzo is an islet situated within the Laganas Bay, 2 nautical miles far from the opposite beach of Daphni. It is full of small hills with a single beach of extremely fine and white sand and is surrounded by a crystal clear sea with turtles and many kinds of fish. There are no other traces of human presence on the island, apart from an old ruined building. At the opposite side of the island (on the south-western coast) there is a cave of medium dimensions.
The island belongs to the Marine Park and so navigation is forbidden in this area and you cannot stay on the islet after sunset.
Thus, the only way to enjoy this fascinating natural environment is to reach the island by swimming. From the beach of Dafni, it will take about two hours; so don't forget to have some provisions with you and a dingy or a canoe, where you may relax for a while.
Porto Limnionas Beaches
Limnionas (or Limionas) is more of a lagoon than a beach and is an unspoilt and unknown about part of Zante (Zakynthos); it really is beautiful.
Situated near the village of Agios Leon, it is easily accessible by car. There is also ample space for parking.
The bay here is stunning, although there is no sand, so it is not ideal for sunbathing, although there are many rocks which provide adequate seating and lounging space.
The water here is exceptionally clean and is a beautiful blue, great for anyone who wants to dive into the refreshing water of the Ionian Sea - and also perfect for snorkeling.
A taverna is nearby (30 m), within easy walking distance and offers fresh fish dishes and other daily specialties.
Porto Vromi Beaches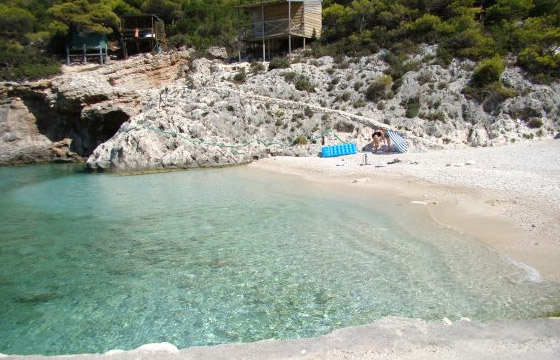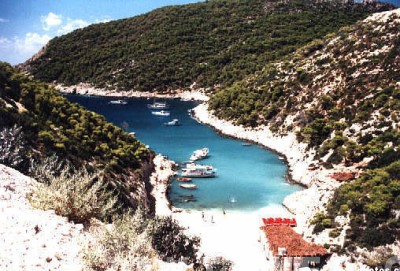 Porto Vromi is a splendid beach in the north of Zante (Zakynthos). Picturesque, with with soft white sand and crystal clear waters set in a bay sheltered by limestone cliffs which have made a natural harbour for small ships to moor.
Boats and pedaloes are available to rent from this beach and also boat trips run from here to the Blue Caves and the Shipwreck, with the trip taking half an hour.
Families with small children should supervise them carefully as the water is deep. There is a small canteen for snacks and refreshments.
Sekania Beaches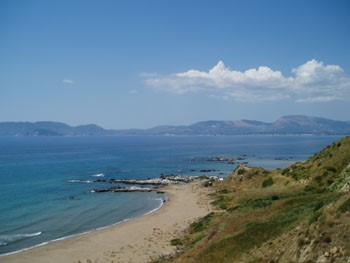 Sekania beach is a beach not widely known about by human visitors but it is a favourite of the Caretta Caretta turtles, and is now the place where the most turtle eggs are laid by the turtles (over half of the all the eggs laid on the island are nested on this beach).
It is part of the National Marine Park of Zakynthos (Zante) which heavily protects this beach along with the World Wildlife Federation as it has such environmental significance to the endangered Caretta Caretta turtles.
Due to the beach being a habitat for the turtles, water sports are not available and no visitors are allowed on some parts of the beach. It may also be closed at times, or some sections cornered off so as to cause the minimum disturbance possible to the turtles.
Agios Nikolaos-Volimes Beaches
This beach is in the north of the island and near the mountain village of Volimes. Not to be confused with a beach of the same name in the south of the island.
Agios Nikolaos beach is small and has a harbour from which ferries sail to the neighbouring island of Kefalonia. Boat trips run from here to the Blue Caves and the Shipwreck. Parking is plentiful here and this beach is easily accessible as the port of Agios Nikolaos is well signposted.
There are also several other beaches in the vicinity all offering calm waters, ideal for swimming (although children should be supervised as the water can be deep).
Several tavernas are nearby, most specializing in traditional Greek cuisine. Anyone wishing to visit this beach by boat will find it easy to moor at the harbour, which is one of the best on the island.
Amboula Beaches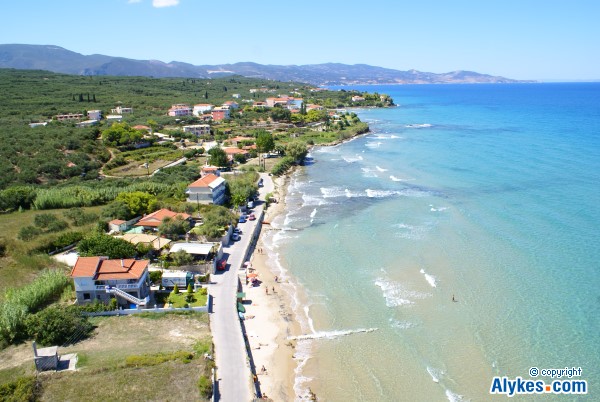 Amboula beach is an uncrowded, quiet sandy beach. Sunbeds and umbrellas are available to hire and there is a taverna and a beach bar at either end of the beach.
Beach shoes are advised as are there are pebbles at the water's edge - the sea is an inviting crystal blue colour and calm making it ideal for swimming.
The beach has a friendly atmosphere as well as offering picturesque views over the Ionian Sea and across to the neighboring island of Kefalonia.
This beach is easily accessible as it is located along the coastal road between Tsilivi and Alykes.
Banana Beaches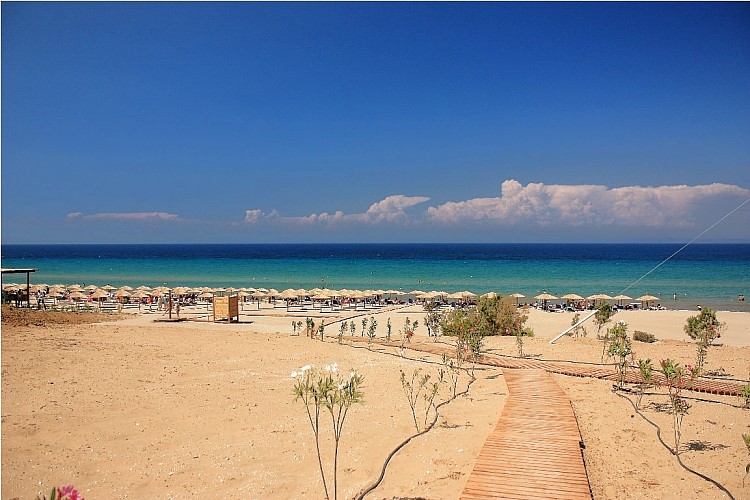 Banana beach has the distinction of being the longest beach on the island and is popular with locals and tourists alike. The water here is shallow and crystal clear.
There are well organized beach bars offering snacks and refreshments as well as sunbeds and umbrellas available.
This beach is a sun - trap and rarely has sea breezes so it can get hot, ideal for those who love sunbathing.
It is easy to reach, as there are many signs on the road to help you out and there is plenty of parking space in the area.
Drosia Beaches
Drosia is a sheltered pebbly bay, not far from the better known resort of Alykes.
It is off the tourist trail and it is possible to have this beach all to yourself if you are lucky - but even if you have to share it, it will not be overcrowded.
The water here is clear and perfect for swimming. A couple of tavernas are nearby to cater for any refreshment needs.
Kalamaki Beaches
Kalamaki beach is a continuation of the better known Lagana beach and is characterized as being a long, wide stretch of soft sand with shallow water. Along with other beaches in the area this is a popular beach for the Caretta Caretta turtles to lay their eggs.
From the centre of Kalamaki many roads lead to the beach making it easily accessible and parking is available nearby.
The beach front restaurants are open until fairly late and are lovely places to enjoy watching the magnificent sunset as it sets over the Ionian Sea.
http://www.zakynthostravelguide.com/2012/05/guide-to-kalamaki.html
Laganas Beaches
Laganas is the best known place on Zante (Zakynthos) island and the beach in the resort of the same name does not disappoint. It is a huge beach, approx 9 km and is a long stretch of golden sand - it is thought to be one of the longest beaches in Greece.
Boat trips to see the Caretta Caretta turtles are available from this beach and these are very popular providing a very special experience to see such a graceful and magnificent creature swimming in its natural habitat.
A wide selection of beach bars, tavernas and refreshments are available here and the resort is just a short walk away. It is an easily accessible beach with plenty of parking available nearby, on the beach itself and also nearby on the main street of the resort.
A great beach for families, couples and youngsters who want a lively day at the beach, not a good choice for those who desire tranquility.
Marathonisi Beaches
Marathonisi is a small uninhabited island, just off the coast of Laganas bay.
The island's shape resembles a turtle and it is also a nesting area for the Caretta Caretta turtles which is why it is affectionately known as Turtle Island.
There are two main beaches on Marathonisi, one is where the turtles lay their eggs in the soft golden sand and the other beach is pebbly with two coves nearby which are fun to discover and explore. Marathonisi can be reached from either Laganas beach or Keri Lake by hiring a boat.
It is a lovely place to visit for a tranquil day of swimming and sunbathing. There are no facilities on this beach, so it is preferable to have water and anything else you might need during your swim.
Porto Kaminia Beaches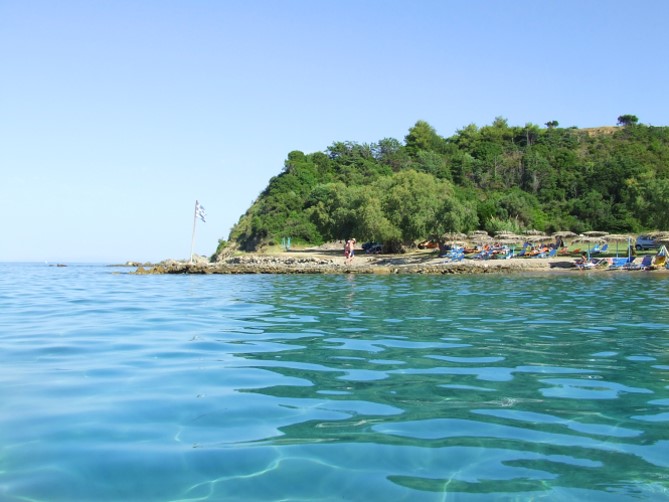 Kaminia is a nice sandy beach, between Argassi and Vassilikos. The beach is uncrowded and has a nice beach bar/taverna which offers free sunbeds and umbrellas.
There are also magnificent views from this beach, perfect to enjoy while soaking up the serene atmosphere. Definitely a beach for those who wish to avoid crowds.
Porto Roma Beaches
This beach is named after one of the most famous Zakynthians, Alessandro Roma, as he lived near this beach.
Porto Roma is a quiet picturesque beach, which has fairly shallow water. Sunbeds and umbrellas are available here and there is also a very good taverna specializing in Zakynthian cuisine and fish dishes.
Anyone arriving at this beach by boat will be able to moor their boat in the small harbour.
Porto Zoro Beaches
Porto Zoro is a lovely beach in the south of Zante (Zakynthos), unspoilt, tranquil and sandy. It is known for the interesting rocks just out to sea, which are the shape of mushrooms and lend a sight of interest to the beach.
There are plenty of sunbeds and umbrellas, it is easily accessible and has parking space available nearby.
Located in one of the most picturesque areas of Zante, rich with lush green vegetation and the deep blue hue of the sea, any nature lover will thoroughly enjoy a day at this beach.
Xechoriatis Beaches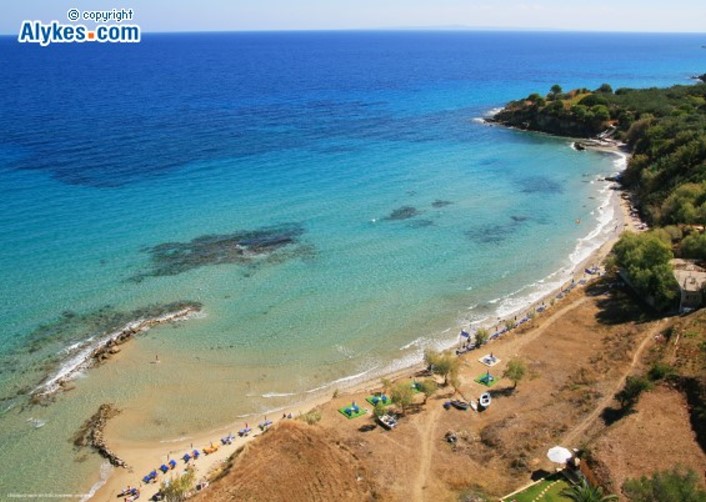 This is a long narrow strip of beach located in the area known as Old Alykanas. It is a secluded beach which is rocky at one end and sandy as it curves round the coastline. This beach does not have sunbeds or water sports and is within walking distance of only two snack bars. The joy of this beach is it is very quiet with only a few people at any time and is very picturesque with stunning views over the Ionian Sea and out towards Kefalonia.
Xechoriatis beach is in between Alykanas (about 2km east of the main resort) and Amoudi, so although there aren't many facilities (mainly just apartments in the area) there are ample shops, restaurants and entertainment in the neighboring resorts.
http://www.e-zakynthos.com/