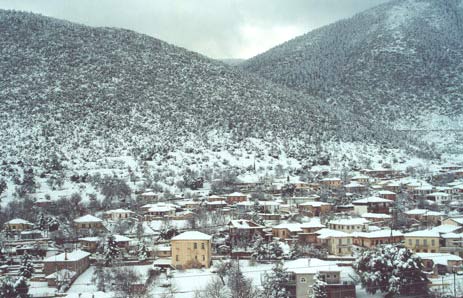 Welcome to the very heart of the Peloponnese, where Greece's fourth largest prefecture will impress you with its nature and heritage. The area has even left its mark on European art and literature, such as Nicolas Poussin's paintings dubbed Et in Arcadia Ego. Arcadia's capital Tripoli works well as a hub for discovering the eco treasures and attractions of this region.

While Tripoli features many neoclassical houses and an Archaeological museum, the beauty of Arcadia lies in its raw countryside and little villages such as Karitena with its stone houses, narrow streets and Frankish Fort. Don't miss the Frankish bridge over the river Loussios with its gorge, or the ancient site of Gortys.

The historical and heritage-filled village of Dimitsana is certainly worth a visit – not only for its fascinating stone-built architecture but also for its cuisine and traditions – and so are the villages of Stemnitsa (known for jewellery making) and Lagadia (known for its skilled stone artisans and beautiful nature). These and many other villages were in danger of crumbling away as the people of Arkadia left the hardships of recent decades to seek a better live in Athens or abroad, but there are efforts to preserve the way of life, traditions and declining population to hopefully offset this decline.

One of the pretty mountain villages is Vlacherna at 1100 meters with its historic monastery by the same name, as well as the site of the Beneniko fortress which is today occupied by the Monastery of Eleousa complete with six churches, underground chambers and storehouses.

Not far off is the stunning summer resort town of Vytina, its climate tempered by the dense forests of Mount Mainalo. Its history as centre for learning hidden from the eyes of the Ottomans and its local crafts today make it an interesting spot to visit. Explorers in the area might also come across the ruins of an old town called Kernitsa with its many churches, or the notable Byzantine monastery of Our Lady Theotokos.

Overall, churches and monasteries from Byzantine times abound, adding a special historical spirit to the area. Fans of mystery bible stories may be interested to know that the grail mentioned in the book Holy Blood Holy Grail supposedly ended up in Arcadia after leaving the Holy Land.

On a greener front, the nature in Arcadia is very varied, with deciduous tree forests such as plane trees, Chalepios pine (common in Greece) and the evergreen black pine. A cedar forest unique to Europe can be found near steep rocks some five kilometres outside the lovely village of Agios Petros. Cedar woods are found to the south of the Malevi monastery. The trees are concentrated in Parnonas, mainly around the villages of Kosmas, Parstos, Paleochori, Platanaki and Agios Vasileios. Also noteworthy are the wildflowers of Mount Parnonas and the orchids on its slopes.

Lake Taka some 8 kilometres south of Tripoli is considered a prime ecosystem rich in fauna and flora, with 13 important species of reptiles, mammals and amphibians, in addition to migratory birds. The lake may dry up temporarily in summer. Rivers include the Ladonas, Alfeios (biggest in the Peloponnese), Erymanthos and Lousios.
All this nature of course means that any eco activity such as rafting, hiking, mountain climbing comes alive and reinvigorates the spirit.

While the mountains of Arkadia offer great hiking and mountain-climbing opportunities in temperate months, in the winter they are snow covered and represent a whole other range of activities. The Ostrakina ski center in Ostrakina in Mainalon (or Menalon), Gortynia, at 1600 meters has earned awards for its natural beauty. There are 8 slopes and 4 ski lifts to choose from, as well as chalet and guesthouse.

Lastly, for the archaeologist in us all, not far from Tripoli lie the must-see archaeological sites of Manitineia and Tegaea (or Tegea). Discover remains of an agora and Hellenistic theatre, baths and more, either from Roman or Hellenistic times and visit the Archaeological Museum of Tegaea to see the artefacts that came out of this site, be they from the Arachaic, Geometrical or Hellenistic period. The ancient cities of Megalopolis and Lycosoura with a myriad of relics must also be visited by any enthusiast of ancient Greek history.

In the vicinity there is Petrovouni – known for traditional furniture making – you can visit the remains of Ancient Methydrion and a temple to Poseidon Hypios. Part of the area was ravaged by forest fires in 2007, but is on the road to recovery now, thanks to the rich vegetation and spring waters. Ancient Lousoi is also reported to be in the area.
Levidi http://e-levidi.gr/
Levidi beautiful townhouse village in North Arcadia, appears suddenly after a bend in the road Tripoli - Olympia, lazily stretched out on a slope of the magic forest MENALO and three on two neighboring hills, the plains of ancient Orchomenus. From the entrance of yet, Levidi, with that beautiful manicured woods with stone arches at the edge, the traveler shows his true identity and nature: lush, picturesque, beautiful, stone, really mansion, with respect to the long tradition and history. His heart is naturally square, always lively and full of images, smells and sounds of Greece that is lost, the church dominates and fills the atmosphere during holidays with sounds solemn and fragrance incense, with its shops, restaurants and taverns around to attract locals and travelers with good local products and the odors of well cooked food and freshly baked bread. Villas, beautiful rooms and fabulous mansions await visitors to accommodate them. Here in Levidi and Mainalo, visitors will be happy that other Greece will walk in ancient and holy places will experience the magic of Arcadia, will feel at every step here what beauty and nature, history and culture, hospitality and happy life. All seasons are beautiful here, but the snowy winter landscape stays in memory as an image of absolute beauty.
Vitina http://www.e-vitina.gr/index.html
Vitina, notorious mountain holiday destination for many years holds the primacy of the tourists in Arcadia and is always the jewel of Mainalo know as lovers but also those who have not visited yet. Beautiful, cool, calm and green scenic, civilized and hospitable, Vytina remains the grand dame of tourism development of Arcadia. stretches lazily in Mainalo, firs bounding and flavor it with that particular scent and freshness that is difficult to forget, and to endow rare climate which for years was considered therapeutic body and soul.Noble and beautiful Vitina, with old petrospita, picturesque narrow, the lively square with the old church,dentroskepasta streets for walking, the woods and the countryside, rewards the visitor with an unforgettable vacation.around in small distances, there arevillages of extraordinary beauty, rivers, springs, historical monuments, monasteries, places of magic worthy to explore. The most important thing advantage of holidays in Vitina is here thatthe visitor honored particularly high level of tourist accommodation.
Shop selling local produce
Dimitsana http://www.e-dimitsana.gr/
Dimitsana is an attractive small town standing on the river Lousios. In Antiquity, the town was called Theutis.
It was one of the centres of the Greek independence movement partly due to its production of gun powder. Nowadays it attracts many Greek tourists.
Short extention of the remaining ancient wall.

The Dimitsana, this beautiful historic town, known since the fifteenth century, built on the ancient Tefthidos, settlements preserved and full of memories, history and myths, lies amphitheater built on two facing hills above the river gorge of Lucius. It's all a living museum of traditional architecture with beautiful stone buildings, the serpentine downhill streets, bridges and watermills of a history museum with old monasteries, Byzantine churches and relics, the library with rare documents and codes, the gunpowder mills and Water Power Museum, archaeological and ethnographic collections. The natural beauty of the place is not accidental that had inspired the myth of al bath sanctuary of Zeus on the river which was named Lucius (where bathed Zeus). The view of the valley that flows from the hill Lucius Dimitsana as Megalopolis and the depth of the volume of Taygetos experience remains etched in memory. Natural beauty, architectural peculiarity, stone and water, the history of ancient, Byzantine and modern Greek, today's excellent management of historic and artistic wealth of the town, as well as the excellent tourist infrastructure make Dimitsana magical tour and traveldestination.