The beautiful three-arched bridge of Kalogeriko or Plakidas is situated in Zagori near Kipi, 39 km from the city of Ioannina. It is called Kalogeriko (= of the monk) because in 1748 the Prior of the monastery of the Prophet Helia Seraphim replaced the wooden bridge, which Roussis from Negades had built to serve the villagers who wanted to go to the mill, with a stone one.

It also took the name 'Plakidas' because in 1863 the brothersPlakidas from Koukouli did restoration works to the bridge. Thereafter 4 more restorations have been done.

The stone bridge is a preserved monument. The watermill (now ruined) that operated next to the bridge had a 'nerotrivi' (a facility to wash clothing) as well. Only the bridge that led to the mill still stands.
Nearby cities: Ioannina, Sarandë, Trikala
Coordinates: 39°51'41"N 20°47'11"E
Προβολή μεγαλύτερου χάρτη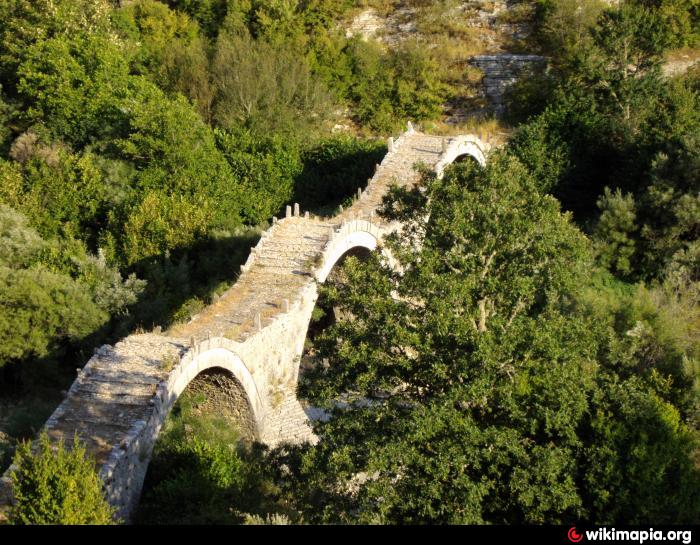 The bridge of Noutsos (also known as bridge of Kokkoros) is situated near the village Koukouli in Zagori, 39 km from Ioannina, over the river of Voidomatis. Noutsos Kontodimos from Vradeto donated the money for building of the bridge, which took the benefactor's name. Aninscription on the bridge refers the year 1750 or 1752 as the year built.

It is also called 'bridge of Kokkoris (or Kokkoros) because Kokkorosfrom Koukouli, who had a mill nearby, gave money for restoration works in 1910. Lately, the bridge was repaired again from the union of Zagorians.


Κοντινές πόλεις: Ioannina, Sarandë, Trikala
Coordinates
: 39°51'43"N 20°46'29"E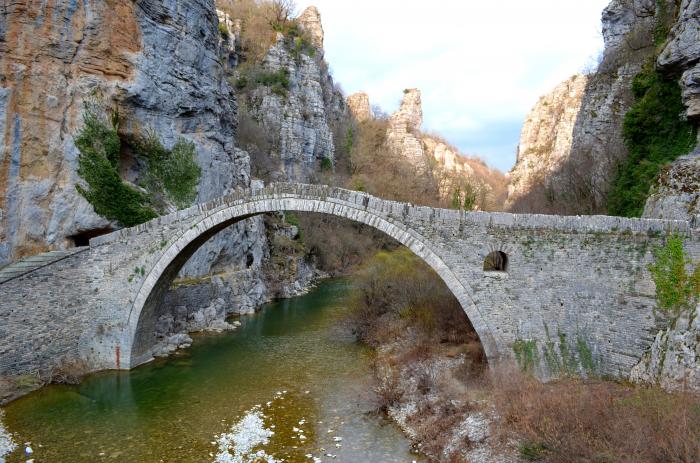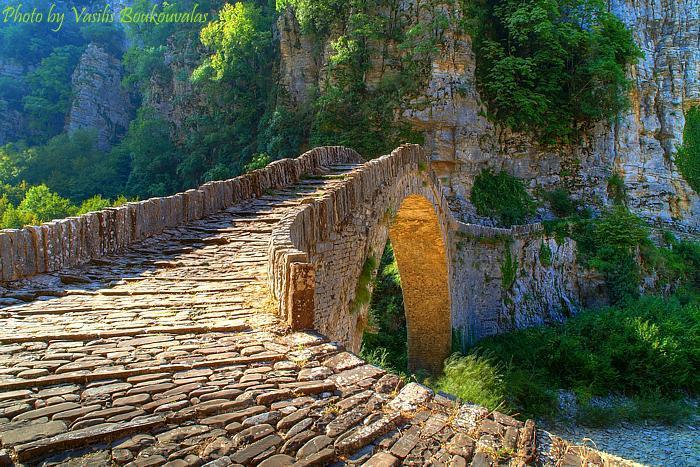 One of the biggest single-arch stone bridges in Greece is located near Konitsa across the river Aoos. It is 20 m high and 40 m long. It was built in 1870 and replaced many wooden constructions built at times in the past. The works finished in 1871.


In 1913 restoration works were done in the bridge, for Tzavit Pashahit it with his cannons while retreating with his army. The small bell hanging under the arch of the bridge warned the passersby when the wind was blowing hard and crossing the bridge was dangerous.

A footpath starting from the bridge leads to the Monastery of Stomio.




The stone bridge over the river Voidomatis is situated near the village Klidonia, Konitsa, at the point where the tributary of Aoos, Voidomatis flows out of its wild but verdant gorge to the plane of Konitsa.

Many attempts to bridge the two sides of the river had been made untill1853 Misios managed to build this beautiful sinlge-arched bridge.

There's a cobbled footpath to Vikos gorge starting from the bridge.


Κοντινές πόλεις: Ioannina, Sarandë, Trikala

Coordinates: 39°58'4"N 20°39'48"E
http://www.ioannina.info/index.php?lang_code=en