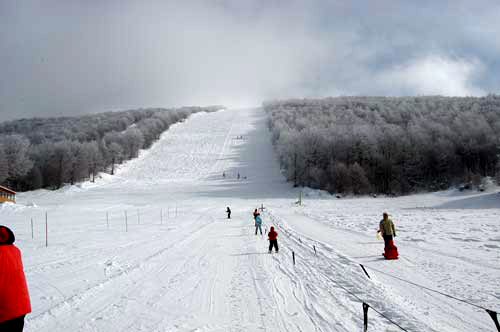 52100 VITSI , KASTORIA , GREECE
Tel.: +30 24670 24884, 82666
Mobile: +30 6944-709190
E-mail: vitsi@in.gr
Operating period: Dec - Mar
Mountain: Verno Altitude: 1610 m up to 1880 m.

The ski center is located in the area of Oxya settlement in Kastoria prefecture, on Vitsi top of Verno mountain and at an altitude of 1610 m., inside a dense beech forest.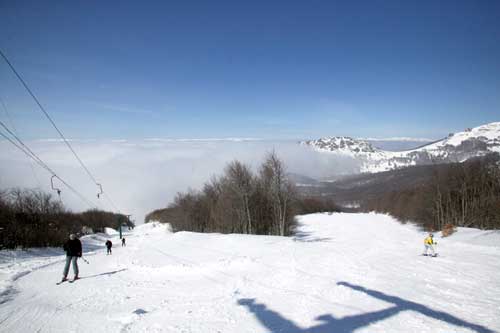 Slopes
The Vitsi Ski Center has a total of five slopes, out of which:

1 red, Dinogianni, 1000 in length. Its name is a combination of two members of Alpine & Ski Club of Kastoria, Dinos & Giannis, who had a fatal accident there.
1 blue, Fofi, 1300 m in length.
2 green, for beginners, 150 m in length each, which are served from baby-lifts.
1 Lang Lauf, Arkouda, 2500 m in length.The Dinogianni slope (central) is divided in such way that half its width is used by skiers, whereas the other half by snowboarders - in this part of the slope points for leaps have been formed, etc.

Lifts
1 one-seat sliding lift with a capacity of 850 persons/hour.
2 baby-lift.
Other facilities/services
Chalet with a cafe-restaurant.
Snow bar, right next to baby-lifts.
Ski and snowboard school.
Ski and snowboard equipment rental store.
Ample parking lot.
Accessibility/Road network
The ski center is only 22 km. away from Kastoria town and has an asphalt, safe road, that is daily cleaned by snow-ploughs operated by the Kastoria Prefectural Authority.

Operation period
The Vitsi Ski Center, as the others in Greece, operates from December to March. Its lifts are open on weekends and holidays 10.00-16.00, but also on Wednesday and Thursday afternoon 14.00-17.00.

Useful notes
The Vitsi Ski Center has been operating since 1985 and is run by Alpine & Ski Club of Kastoria, Both, with the Lailias Ski Center, are the only ones, that alpine & ski clubs are responsible for their management and operation. Downhill ski races in children's categories are organized yearly, through the official programme of the Hellenic Ski Federation.

Services in the surrounding area
In Kastoria and the surrounding area there are, in total, approximately 2000 beds in many hotels and traditional guesthouses that, in majority, are new or have recently been renovated.

Sights/activities in the surrounding area
An excursion to Vitsi Ski Center can be enriched by visits to interesting sites of the area, as well as visits to Prespes lakes or Nymfeo.