Kaimáktsalan ski resort occupies the northeastern slope of Mt. Voras, from an altitude of 2,480m, where the highest lift carries the skiers, down to 2,050m, where the luxury chalet is located.

The view from the mountain is amazing, since you can see as far as Thermaikos Gulf, the peak of Mt. Olympos, and lake Vegoritida. The ski centre is equipped with 6 ski lifts and 13 ski runs, 15 km in total length (4 red, 4 blue, 3 beginners and 2 langlauf slopes), and 4 ski trails of 3,250m in length. Thesnowboard fun park invites snowboarders, free skiers and connoisseurs of the snowboard scene, whereas in the snow tubing park everyone can just have fun!
A three-storey chalet is built at an altitude of 2,050m. It offers central heating, a 46-bed hotel, a restaurant-bar, where traditional dishes are served, a fast food restaurant, a café-bar with a fireplace, a store with traditional local products, a store that rents and also sells ski and snowboard equipment, a ski school with expert trainers, a tourist information kiosk, an infirmary, and parking areas.

After a long ski day, you can relax at the chalet's lounge. Its large windows give breathtaking views of the surrounded mountainscape. You can chose to spend the night at a luxury suite, or in the homy atmosphere of a beautifully restored guest house at the old village of Agios Athanassios (also known as the "Stone Village").

Kaimáktsalan is also known as the "Mykonos of the winter". Every year more and more visitors, either experienced skiers or mountain sports fans, come to enjoy the fresh snow, and all the activities on offer.

Within a short distance from the resort lies ancient Pella, the glorious capital of the Macedonian kingdom, with its impressive archaeological site, and its very interesting museum. The historic Archangelos Monastery, and the beautiful city of Edessa with its widely known waterfalls are also must-see spots.

The famous thermal springs of Loutraki are located at the foot of Mount Voras. The spa resort is situated in a magnificent location with wild vegetation and natural waterfalls. Very close to the Kaimaktsalan ski resort, lies lake Vegoritida, the second in size lake in Greece, a place of refuge to rare bird and fish species.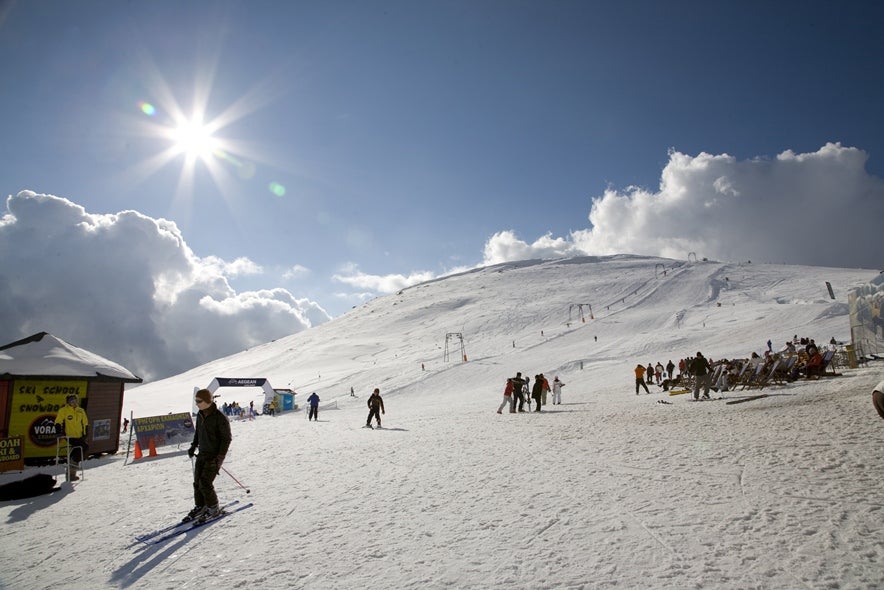 Ski Center

58002 KAIMAKTSALAN , EDESSA , GREECE
Tel.: +30 23810 32000-3, 52012, 24464
Fax: +30 23810 20533, 34001
Mobile: +30 6977-918131
Toll Free: 801 11811811
E-mail:
URL: http://www.kaimaktsalan.gr

Altitude: 2040 m - 2480 m

The ski center starts at 2040 m, Chalet's building: 2040 m, Highest peak: 2524 m, Highest lift: 2480 m, Greatest lift height difference: 290 m, Greatest slope height difference: 440 m.
Voras Mountain is located at the frontiers with F.Y.R.O.M. and its crest-ridge is the limit line of the two countries. It is the third highest mountain in Greece after Olympos (2917 m.) and Smolikas (2637 m.), with an altitude of 2524 m, on the peak of which stands Kaimaktsalan Ski Center. The view from the mountain is amazing, since one can see as far as Thermaikos Gulf, the peak of Olympos mountain and, of course, the 3-5 Pigadia Ski Center in Naoussa, which is across from the peak.

Denomination Origin The word "Kaimaktsalan" has Turkish origins and means in literal translation the cream-crust thief. The reason why this denomination was given is not certain (there are a lot of explanations).

Slopes13 slopes, 14.5 km in total length, out of which:

4 red:
No 3, 1000 m in length. It is served by Sarantovryssi 1 lift. Suitable for advanced-level skiers.
No 4, 2000 m in length. It is served by Sarantovryssi 1lift. Suitable for advanced-level skiers.
No 6, 1000 m in length. It is served by Kremassi lift. Ski center's best slope for ski experts.
No 8, 700 m in length. It is served by Meterizi lift.
4 blue:
No 2, 2200 m in length. It is served by Sarantovryssi 1 lift. The longest slope in ski center.
No 5, 1200 m in length. It is served by Kremassi lift.
No 7, 1000 m in length. It is served by Meterizi lift.
No 9, 900 m in length. It is served by Sarantovryssi 2 lift. Suitable for beginners.
3 beginners slopes.
2 Lang-Lauf slopes:
R1: Suitable for group training and games. It is served by Meterizi lift & its length reaches to 700 m. The SR M1 connects it with the Sarantovryssi 1 & 2 lifts' base and leads to snow bar.
R3: Suitable for race. It is between No 5 & No 6 slopes. Its total length reaches to 800 m.
4 paths for skiing (SR - Snow Roads), of 3250 m total length, out of which:
SR Μ1, 900 m in length. It is served by Meterizi lift.
SR S1 500 m in length. It is served by Sarantovryssi 2 lift.
SR K1, 1200 m in length. It is served by Kremassi lift.
SR K2, 650 m in length. It is served by Sarantovryssi 1 lift.
Snowboard slope or fun park: It has obstacles, bars, beams and somersaults specifically for jumping. Its area covers about 4 acres. It is located above the main chalet, between slopes 7 & 8 and served by the one seat sliding lift Meterizi. It is designed according to international standards and is proper for both, fun and games and competitions too. On 2004, the VZ trials took place here (competitions for children under 18 years) on Panhellenic level, and the winner's prize was the participation to the Junior Pro Contest finals at the Avoriaz, France.
Lifts
1 double seat aerial lift (Sarantovryssi 1), with a capacity of 1200 persons/hour (Starting point at 2076 m - Peak point at 2379.5 m).
1 double seat sliding lift (Kremassi) with a capacity of 951 persons/hour. (Starting point at 2220 m - Peak point at 2480 m).
2 sliding one-seat lifts
Sarantovryssi 2, with a capability of 900 persons/hour (Starting point at 2080 m - Peak point at 2210 m).
Meterizi, with a capacity of 500 persons/hour (Starting point at 2022 m - Peak point at 2132 m).
2 beginners' lifts or baby-lifts. Both of them are exactly in front of the central chalet. The first one serves the needs of those who would like to learn skiing by themselves, as well as children who have just started skiing. The second one serves the needs of ski and snowboard schools.



Other facilities/services

Kaimaktsalan Chalet: It is on the foot of the ski center (at 2050 m). Through its large windows you have a great view to the slopes. There is also accessibility and lavatories for the handicapped.
Snow bar 2069: It is on the foot of the main lift, on Sarantovryssi area. Constructed in October 2001 & first operated in December 2001. It consists of a 110 sq.m. building, interiors are decorated with stone and wood, exterior stone balcony of 110 sq.m., on its south side, and a wooden three levelled balcony of 80 sq.m., on the north side. The interior serves a total of 200 guests and the balcony 400. It has central heating, ventilation, lighting and sound system, based on the standards of ski resorts' chalet abroad. The magnificent view over the slopes, the fireplace, the fine music, made it a meeting point for coffee, drinks and snacks.
Ski and snowboard schools.
Ski, snowboard & snowmobile equipment rental shop.
Automatic ticketing system.
Parking lot.
Special services
Snowmobile rental:
You can try riding a snowmobile on a specially designed course, located in front of the main chalet and next to the parking area, that meets all safety requirements. Six snowmobiles are available for rent , with a capability of two persons. Suitable for persons over 18 years old.
Transportation vehicle to the peak point:
The visitor has the possibility to reach the peak point (2524 m.) with a special vehicle (snowcat), visit the unique Profitis Ilias chapel for its view, take a photo or play snowball. Departures from the main chalet every Saturday, Sunday and holidays, from 10 a.m. to 3 p.m. every hour. On weekdays upon request.
Accessibility/Road networkIn 1996 the network road was asphalted, whereas in 2002 a second network road from the side of Kerassies of Edessa was opened.

Operation period
The ski resort operates daily from 9 a.m. to 4 p.m.

Useful notes
The ski center has been in operational test in 1994, with two lifts & a shelter. The access was through a dirt road of 17km long.

In 1995 operated officially, after the assignment of its management to a private corporation. In followed years, much improvement worked like a new road access, an installation of new and expansion of old lifts, main chalet renovation, etc. In 2003 Prefecture of Pella (which also own the facilities) take over the management of the Ski Center, represented by its development company, EVROAP.

In 2004, the fourth sliding lift was set, on Sarantovryssi area, main chalet was fully renovated and new buildings were constructed in order to house a variety of relevant business.

In 2005, the artificial snow system was established, which is for "snowing" No 7, 8, M1 slopes and those, which are near to ski schools & baby-lifts, in front of the chalet. In that way slopes are continuous covered with snow, and there is the ability to renew its quality & fulfill spots, where snow can't be conserved because of slopes' topography or orientation. The artificial snow system includes:

Four movable snow productive machines (cannons).
Six sticks - Snow sprayers.
Thirteen providers, for the connection between snow productive machines.
Underground water tank.

Pumping station.
In 2007, every lift has its automatic ticketing system.

Facilities/services in the surrounding areaIn the surrounding area there are traditional settlements with rural tourism guesthouses and small hotels to accommodate the region's visitors.

Sites/activities in the surrounding area. At the peak point of the Kaimaktsalan/Voras mountain and within the border lines there is the Profitis Ilias chapel, which is a 1st World War monument. It was built in Catholic style and in its basement there is a cenotaph of the victims killed in the battles that took place there. Its largest part was proposed to be included in the region of Nature 2000. At the foot of the mountain is the lake of Vegoritis, one of the largest lakes in dimension and in depth in Greece, which is extended into the geographic borders of three prefectures (Pella, Florina, Kozani) and is protected by the Ramshar treaty.

Other sights in the area are: the airport of Zervi that serves the gliding planes and flying and parachuting schools, the spa baths of Loutraki, Aridea, mostly known as Pozar, where there are pools with thermal spring water (with 37 degree temperature), wetland Agra-Nissi-Vryta with a variety of bird fauna, and, of course, the town of Edessa with its waterfalls, the traditional neighbourhood of Varossi, the birdseed industry, the mill turnstile, the aquarium of fresh water, the ancient town in Logo, etc.